Lifes Adventures
Vail Valley Telemark Skiing

Are you in the minority?  Well in the case of Tele skiing you will want to be!  Even though forms of Tele skiing have been around for 150 years its popularity has only recently been rejuvenated within American ski culture.  On the slopes of Beaver Creek and Vail Telemarkers are becoming an ever-growing presence.  Even though only a small percentage of snow sport participants indulge in this cross-country-alpine fusion form of skiing it is becoming highly popular among ski communities.  
Many Telemarkers started out as either alpine or cross-country skiers or snowboarders before they took up the sport, and guess what?  They will never go back.  Most have picked up the sport with the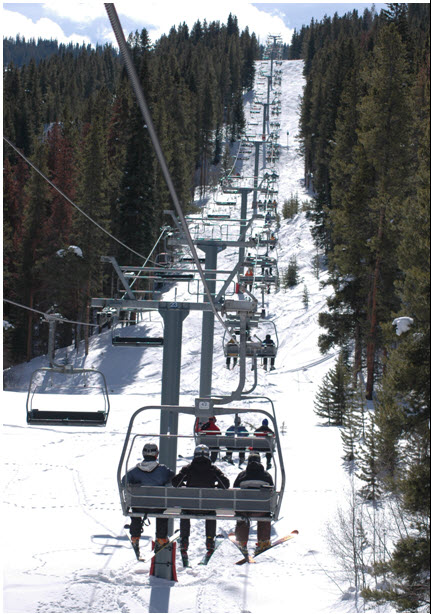 goal of trying something new or for a different approach to skiing after rebounding from an injury.  More recently, some resorts are now offering not only lessons and classes for adults, but for children as well.  Beaver Creek puts on a couple of programs for aspiring Telemarkers throughout the winter.  First of all, a special Beaver Creek kids workshop that teaches them to Tele in a fun, safe and professional atmosphere is offered periodically throughout the winter.  Last year women freed themselves on Super Bowl Sunday and participated in the  Women's Super Sunday telemark ski workshop.  Women of all ages and abilities were able to concentrate on their technique and movement in a relaxed and supportive environment.  There is also a social ski club called "Tele Tuesday" for both men and women Telemarkers to meet, make friends, and learn. 
Tele skiing is also an excellent outlet for exploring the expansive Rocky Mountain backcountry.  With the freedom of a free-heel binding and the shape of an alpine ski Telemarkers are ready for any snowy terrain Mother Nature can provide.  While in the backcountry be sure to visit one or more of the
Whatever your Telemarking adventure involves this winter make sure you do it in style.  The Vail Valley has many shops available for equipment rental or purchase as well as clothing stores to keep you well equipped.
The photos featured on our website are a collection from various people enjoying the many activities in the Vail Valley.  If you would like to share photos of your adventures, please email us.   We are putting together an exciting gallery of photos for all to enjoy.   Wouldn't you like to show off your photos to thousands of people?! 

Feel free to contact us with any questions.  Tele till' your smelly!