Vail Valley Dog Sledding

Dogs have been faithful companions to humans for centuries, and in that companionship have provided assistance in protecting, hunting, and transporting.  They have also provided support in the exploration of uncharted and otherwise unreachable territories.  Dog sleds are a prime example of how these amazing animals have contributed to the winter world as we know it.  Over time changing from a necessity to a sport and finally to a hobby and family activity dog sledding has transformed into a winter lovers dream.
 
Here in the Vail Valley you can take a thrilling dog sled ride with magnificent huskies through a pristine winter landscape.  As you glide through open meadows and forests of aspen and pine trees you may catch a glimpse of elk, mule deer, or other wildlife.  The dogs are always friendly and they love their job!  We currently have two companies, Mountain Musher and Nova Guides that can provide you with the ultimate dog sledding experience.  Each company offers its own unique experience and should be chosen based on your individual vacation goals.  Here is a glimpse of what your advenutre may entail!
The photos featured on our website are a collection from various people enjoying the many activities in the Vail Valley.   If you are out enjoying the Vail Valley and would like to share your photos, please email us.   We are putting together an exciting gallery of photos for all to enjoy.   Wouldn't you like to show off your photos to thousands of people?!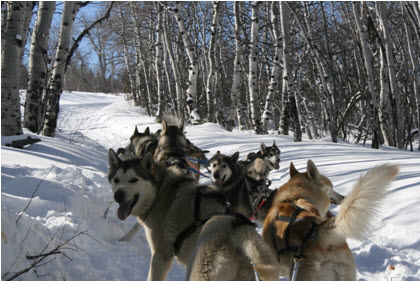 Feel free to contact us with any questions.  Have Fun!