Lifes Adventures
Vail Valley Golf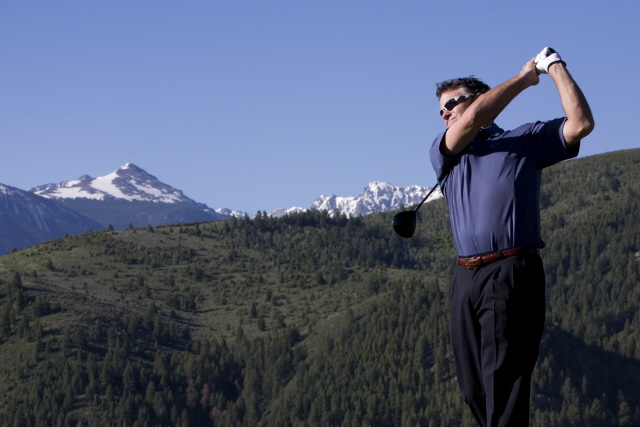 Golfing in the Vail Valley is an experience not to be missed. With a variety of courses as well as a variety of course layouts, Golfing in this Alpine Environment combines a technical challenge as well as a visual feast that changes hole by hole and course by course. Add to this the fact that in the Mountain air your ball will carry farther , it's time to ready your swing.

Within this website, we will outline the Golf Courses in Vail Valley and provide information on their availability, features, location, ratings, as well as fees and tee time capability. These pages will contain a general overview with links to specific courses and further information. This layout can save you time by giving you a brief synopsis of your playing options without having to go to each Course separately.

Vail Valley Courses range from Public to Private, with some of the Private clubs offering access through resort play (Red Sky for example), or in early or late season (Beaver Creek) while others are strictly available as guests of members (Country Club of the Rockies).
This club is Semi-Private, offering memberships as well as access to non-members. It also features golf sited land and homes.
Eagle Ranch Golf Club

A Public course, Eagle Ranch is an Arnold Palmer 18 hole Signature Designed Course beautifully situated in Brush Creek Valley of Eagle.
Eagle-Vail Golf Club
Designed by Devlin/VonHagge, and run by the Eagle-Vail Municipal District, this is a well managed 18 hole Public course. 
Vail Golf Club

This is a championship Public course, designed by Ben Krueger that runs along Vail Valley(altitude 8,200Ft at this point) with Gore Creek running through it.
Willow Creek
  (Par 3)
Located in Eagle-Vail, near the Eagle-Vail Golf Club, it is also run by the Eagle-Vail Municipal District.
Courses with Limited Availability
This Course Is available to the Public only during the early part of the season(Mid May to June 15th) and late in the Season( September 15th till about October 12th)
The Cordillera Club

A spectacular Mountain Community located just West of Edwards, Cordillera has four separate courses, 3 of which have some availability.
The Summit Course 
(Private, Limited Play), at 9,200 feet, designed by Jack Nicklaus, is an 18 hole 7,530 yard course utilizing the mountaintop terrain. 
The Mountain Course
(Private,Limited Play), created by Hale Irwin, also is an 18 hole course with a length of 7,413 yds, has fairways lined with trees and elevations that change dramatically.
The Valley Course
  (Fully Private) is located on the otherside of the Eagle River and Route 70. It was designed by Tom Fazio.
The Short Course
(Semi-Private) is a 9 hole course designed by Dave Peltz was, as it's name implies, designed to give your short game a workout.
Red Sky Golf Club
 (Private/Resort) The Red Sky Club includes 2 courses located in Wolcott, an easy drive from Vail and towns
Sonnenalp Golf Club
(Resort)
The Singletree area of Edwards is on the South side of the Vail Valley, where the Sonnenalp Golf Club is located, It is an 18 hole 7,100 yard championship course on the Sunny side of the mountains.
Golf courses available only as a member or a guest of a member
Located in Eagle at 215 Broadway, and part of Adam's Rib Ranch, this is a Tom Wseiskopf designed course that opened in the Summer of 2007.
Brightwater Club
(Private)
It's address is 400 Gypsum Creek Rd, Gypsum Designed by Robert Trent Jones Jr, at 8005 yd long, this par 72 course is the fifth longest in the nation.
Designed by Jack Nicklaus and located At Arrowhead in Edwards, Co. This is the only member owned private club in the area, and play is for Members Only and their guests
Eagle Springs
   (Private)
Located in Wolcott, Eagle Springs is the result of design work by Jay Morrish and Tom Weiskopf.