Lifes Adventures
Vail Valley Mountain Biking
One of Vail Valley's most popular activities is Mountain Biking. As a matter of fact, as you drive around, you will see many vehicles with bikes attached!   It is also a common occurrence to these vehicles as you drive through the mountains from Denver to Vail!
Mountain Bikes can be seen in many places throughout Vail Valley. Walking through Vail Village, you will often see a family with their young children riding together. It certainly places a smile on your face!   You may also see a person in full gear and muddy after they just experienced one of the advanced trails on Vail Mountain.   It is amazing what diversity our area has to offer!
Another common scene are the stores with many bikes displayed outside.   Whether you want to rent or purchase, you can find plenty of options for

bike stores

from Vail to Edwards.   There are also plenty of

clothing stores

to make sure you have the proper equipment to tackle the most relaxing ride to the more challenging trails.   If you are interested, there may be a few tours  that capture your attention.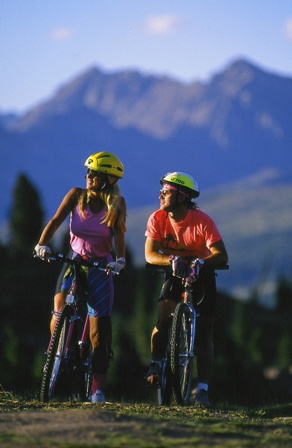 Since Mountain Biking is so popular, there are numerous options available for you to discover.   If you prefer to stay near the resorts, you can venture up
Vail
Mountain
or
Beaver
Creek
Mountain
.
  If you are ready to explore various mountain trails, then there are various levels just waiting for you throughout the

Vail

Valley!
Mountain Biking is very alluring because of the incredible scenery and the of course, a little exercise.   As you maneuver through the trails, gorgeous creeks flow by, wildflowers bursts out of the soil, trees tower over and sunlight filters through. You may see a variety of wildlife from a marmot to a fox to a deer or elk. You will even see bikers riding with their dogs! In our Vail Valley section, we presented you the various options depending on your skill level. Hopefully this approach will help enhance your mountain biking day!
Vail Valley is proud recipient of the Teva Games.  Whether you want to be a spectator or participant, there are races  for you to enjoy.   When it comes to Mountain Biking there is something for everyone!
Now don't wait, just hop on your bike and enjoy!
(If you have discovered a trail not mentioned in any of our descriptions, please email us.   We would love to learn about your experience!)