Life's Adventures - Summer Activities
Vail Valley Hiking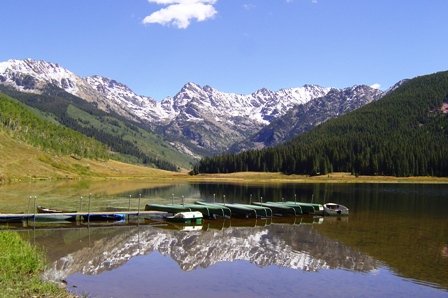 Information by area or by level of expertise.
All you have to do is turn your head in any direction and know why the Vail Valley is an ideal place for hiking. Like our ancestors, exploration seems to be part of our culture and what a better place to explore than our numerous mountains!!
The exciting part about these hikes is the diversity it offers. Whether you are looking for a comfortable walk or challenging hike, our area has it waiting just for you! You can also find a hike that fits your time table. If you want a short hike or an overnight one, the trails are out there for you!
We haven't even begun to describe the experience you receive from hiking. There are so many options, we don't know where to start! To begin with, you and your family may choose to have a wonderful lunch in Vail Village and then take the Vista Bahn to the top of the mountain. You may be in the mood to explore what the skiers get to see all winter! You may choose to walk off your lunch on a couple of the easier trails on Vail Mountain. If you prefer, the more difficult trails are there for you to discover. Since you had so much fun, you may want to repeat this fabulous day by enjoying the restaurants and hikes on Beaver Creek Mountain.  If you own in Bachelor Gulch or Arrowhead, you may want to explore the trails right outside your door.  Or, if you have been exploring Beaver Creek mountain, you may find yourself meanering over to these resorts.  What a great day...hiking with bright blue skies and then take a break for lunch at the Ritz!
Imagine…. rugged mountains, flowing streams, a landscape filled with wildflowers and phenomenal views. This is just a sampling of what Mother Nature paints for us to appreciate! With over 50 trails throughout our area, each hike can offer a unique experience. Where else can you have so many options in such a short distance!  Not only do we want you to have an amazing hike, but we want to help you have a safe day. Please review the Hiking Safety and Guidelines before you take off to explore our majestic mountains.
Vail Valley Opportunities Await You!
Whether you are a local or visiting, you may not be aware of all the opportunities awaiting you. We are trying to provide you with details about the hikes and even a few photos of what you may expect! In addition to the hiking trails, you may want to try one of the
Colorado 14ers.
If you want to experience this adventure, you
definately
want to pay attention to the weather
forcast
!
Our source for many of the specifics of the hikes was provided by our local Ranger Stations. Our photos have been from various people enjoying our hikes. If you are out hiking and would like to share your photos, please email us. We are putting together an exciting gallery of photos for all to enjoy. Wouldn't you like to show off your photos to thousands of people?!
We look forward to hearing from you!