Lifes Adventures
Vail Valley Ice Skating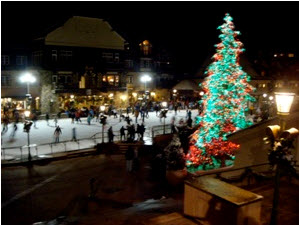 Fun is the most important word when vacationing or residing in the majestic mountains of Colorado, and what better activity to embody fun than ice skating.  All ages of winter enthusiasts can enjoy this low impact, high fun activity for a relatively low price.  
The Vail Valley offers three ice skating rinks as well as a couple of frozen lakes upon which swirling, twirling and hand-holding are a common occurrence.  In the heart of Beaver Creek Village you will find the Black Family Ice Rink where you can skate under the clear blue skies, a starlit night, or during a light snow.  High up on Vail Mountain at Adventure Ridge lies another outdoor ice rink that offers a great family atmosphere with unmatchable views.  Lastly, a world class ice rink, Dobson Arena, sits right smack dab in the middle of Vail.   Dobson Arena is a multiuse facility where one can see a concert, a figure skating competition, or even watch the Colorado Avalanche practice pre-season.  Rentals are available at all three ice rinks and skating is either free or cheap if you have your own gear!  Lessons are available at Dobson for those new to the sport or those who would like to hone in on their skills. 
Our photos are a collection from various people enjoying these trails.   If you are out enjoying one of the many activities available to us here in the Vail Valley and would like to share your photos, please email us.   We are putting together an exciting gallery of photos for all to enjoy.   Wouldn't you like to show off your photos to thousands of people?!

Feel free to contact us with any questions.  Have Fun!