Lifes Adventures
Vail Valley Cross Country Skiing
View Vail Valley Cross Country Skiing by area, or by level of difficulty
Originating in prehistoric times as a method of travel, hunting, and war tactic cross-country skiing has spanned the ages to one of the most popular snow sports in the world.  Modern XC Skiing became sport in the early 1900's and is now popular with ski communities everywhere.   
The Vail Valley features two regulated Nordic areas with over 50 kilometers of trails!  The Vail Nordic Center is located on the Vail Golf Course and offers easy, intermediate, and difficult terrain.  The
Nordic Center and McCoy Park
is an exclusive feature of Beaver Creek Resort and lends to some of the most stunning views in the Valley.  The Eagle-Vail Golf Course is also used for cross-country skiing and snowshoeing by locals and tourists
alike,
and can be accessed from Pollie's Plunge off of Beaver Creek's Rose Bowl.  The White River National Forest also is home to a multitude of backcountry trails for those who want to enjoy the snow, minus the fees.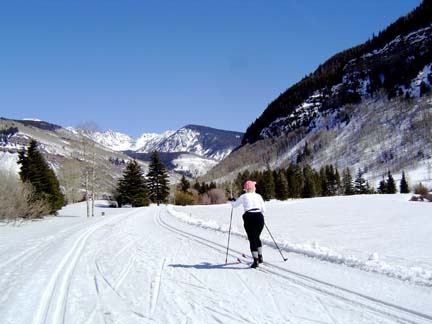 Make sure you have the proper equipment and clothing when embarking on any trails in the Vail Valley.  Please read through our
and regulations for winter recreation, and don't forget to have fun!  There are many shops available for equipment rental or clothing purchase to help you hit the snow in-style and in-charge. 
Whether you are a local or visiting, you may not be aware of all the opportunities awaiting you.   We are trying to provide details about the trails and even a few photos of what you may expect!   Our source for many of the specifics of the trails was provided by our local Ranger Stations.   Our photos are a collection from various people enjoying these trails.   If you are out skiing and would like to share your photos, please email us.   We are putting together an exciting gallery of photos for all to enjoy.   Wouldn't you like to show off your photos to thousands of people?!
Vail Valley Skiing Adventures
In order to present the Vail Valley XC skiing adventures to you, we have two alternatives;   you can view the information
by
area
,
or
by
level of difficulty
.
  Most people have no idea the incredible variation of views, mountain ranges, lakes, and terrain that are waiting for you. Our journey starts at the top of Vail Pass and continues west through the Town of Vail.   Once you reach Minturn, you will find numerous hikes in this area and south down Hwy 24 towards Leadville and then west towards Edwards.
Feel free to contact us with any questions.  Have Fun!!