BIGHORN CREEK TRAIL #2013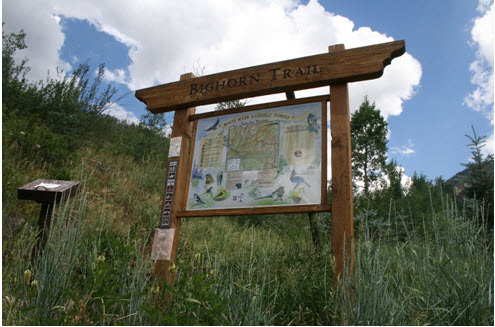 Length: 3.25 miles (one way) Trail Use: High
Difficulty: More Difficult Open To: Hiking, Horseback
Beginning Elevation: 8,608 ft. Ending Elevation: 10,788 ft.
Elevation Gain: +2,180 ft. USGS Map(s): Vail East
Access from Vail : Travel east on I-70 to exit 180, exit here and turn right onto the south frontage road. Proceed 1 mile to Columbine Drive, turn left. Continue to the end of the pavement as the road passes under the interstate through a narrow passage. There is limited parking at the end of the road.
Trail Highlights : The first 1/2 mile of the trail climbs steeply out of the Vail Valley, and then more gradually climbs up through stands of aspen and pine. The trail passes beaver ponds and the remains of old mining camps as well as Bighorn Falls. Near mile 2, the views of Vail and Bighorn drainage are exceptional. Around mile 3, the trail passes through open meadows and stands of sub alpine fir and Englemann spruce, offering a chance to see the Grand Traverse, a continuous 12,000 foot ridge connecting all the peaks and high drainages of the Gore Range. The trail ends at an old homestead cabin located on private property.
Attractions: The Bighorn Creek Trail is less steep than the other East Vail trails. Just before mile 2 and past a large fern grove, there is a side trail to an overlook down the steep drop to Bighorn Creek. This point makes a good destination for short hikes. The cabin is unlocked to offer shelter for hikers. Please respect this private property and help protect it for others to use and enjoy.