Lifes Adventures
Yeoman Park Discovery Trail
Difficulty: Easy
Trail Use: Heavy
Length: 200 yards
Elevation: none
Open To: Hiking
Access : Follow Brush Creek Rd. south from Eagle for 10 miles to the fork of East and West Brush Creek. Turn left onto East Brush Creek Rd., FDR 415 and drive for 6 miles to Yeoman Park. Enter the campground and drive to the end of Loop A where the trailhead is located.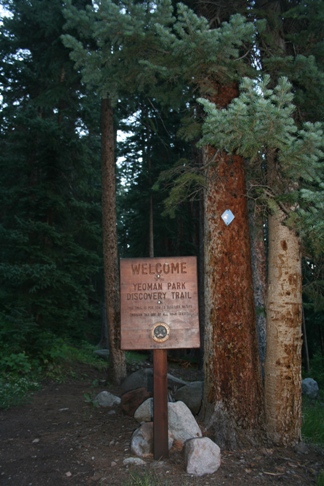 Trail Highlights : This short interpretive trail is at an elevation of 9000 feet. It is designed to accommodate those forest visitors that may be disabled. The terrain is level with a packed small gravel surface. The trail is relatively straight and passes through a stand of mature blue spruce and sub alpine fir trees and ends at a bench overlooking one of Yeoman Park's small beaver ponds.
Along the way there are several log benches to relax and take in the view. The Yeoman Park Discovery Trail has 7 unique interpretive signs focusing on the use of senses to explore nature. The signs were designed with many touchable features and they are accessible to those with disabilities. The natural subjects covered by the signs include Colorado mammals, wildflowers, rocks, trees, archaeology and water. There are many opportunities along the trail to view the behaviors of common tree and ground squirrels, as well as many species of birds such as mountain chickadees, Stellar's jays and gray jays.