Lifes Adventures
PITKIN CREEK TRAIL #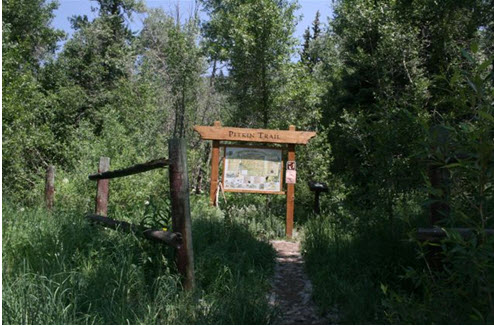 Length: 4.5 miles (one way) Trail Use: Moderate
Difficulty: Moderate to More difficult Open To: Hiking
Beginning Elevation: 8500 ft. Ending Elevation: 11,400 ft.
Elevation Gain: +2900 ft. USGS Map(s): East Vail
Access from Vail : Travel east from Vail on I-70 to Exit 180 for East Vail. Exit here, turn left, and pass under the interstate. Turn right onto the north frontage road and continue to the trailhead on the left side of the road before the Pitkin Creek Town homes.
Trail Highlights
:
The first mile of the trail is strenuous as it climbs steeply out of the Vail Valley. Fallen trees along the trail are evidence of past avalanches. The grade levels out somewhat as the trail passes through mature aspen groves and spruce-fir forests and a series of moraines from an ancient glacial retreat. After about 2.5 miles, steep switchbacks reveal the first of two waterfalls on Pitkin Creek about 200 yards to the east. After a number of false summits, the trail reaches Pitkin Lake, nestled beneath an arc of gray granite in the alpine tundra.