Lost Lake-FDT 2224
Difficulty: Moderate
Trail Use: Low
Length: 2.8 miles
Elevation: Starts at 9385 ft, ends at 10,884 ft, highest point 10,884 ft
Elevation Gain: +1499 feet
Open To: Hiking
Access : From Eagle, take I-70 west to the Gypsum exit and turn left.
• Head towards town, turning right at the Forest Access sign, Valley Rd., this road will turn into Gypsum Creek Rd., FDR 412. Stay on this road for about 17 3/4 miles and turn right onto FDR 455, this is a 4-wheel drive, high clearance road. Park at the bottom if you are in a 2-wheel drive vehicle. The trailhead is 1.2 miles up the road on the right.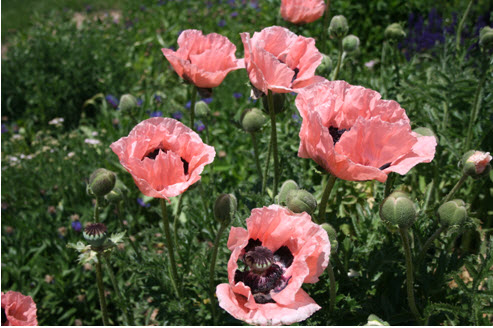 Trail Highlights : The beginning of the trail ascends gradually through aspen and mixed conifer forest crossing a creek a 1/4 mile along the way. The middle section of the trail gets steeper, passes the creek again and has many rocky outcroppings. After a rock laid path through a ditch the trail runs through a meadow with rock screen on either side and then may become intermittently hard to find. Look for faint paths below the eastern rock screen and in the trees; remember if you become lost, Lost Lake is on the northwest side of the rocky bowl with Red Table Mountain rising in the background. Lost Lake drains to the north and the trail can be found along the creek as you begin your descent. Wildflowers, the creek, rock slides, and the lake add to the serenity of this trail. This quiet 5 acre lake offers a peaceful day with few encounters with others.