Lifes Adventures
Booth Creek Trail #2011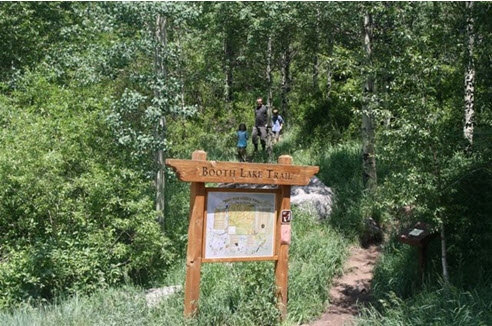 Length: 4.1 miles (one way) Trail Use: High
Difficulty: Moderate to more difficult Open To: Hiking, Horseback
Beginning Elevation: 8,400 ft. Ending Elevation: 11,480 ft.
Elevation Gain: +3036 ft. USGS Map(s): East Vail
Access from Vail : Travel east from Vail on I-70 to Exit 180 for East Vail. Exit here and turn left, pass under the interstate and turn left onto the north frontage road. Proceed about 1 mile to Booth Creek Road, turn right and continue up this road to the parking area at the end of the road.
Trail Highlights
:
The trail climbs steeply from the trailhead through aspen groves for the first mile.

Then, the trail climbs more gradually following along Booth Creek. At mile 2, the trail passes 60 foot Booth Creek Falls. Beyond the falls, early season hikers may encounter snow patches as the trail winds through conifer forests and meadows filled with wildflowers. Above 10,000 feet the trees thin and the terrain changes offering views of the Gore Range. The last 1/4 mile to Booth Lake is steep and rocky.